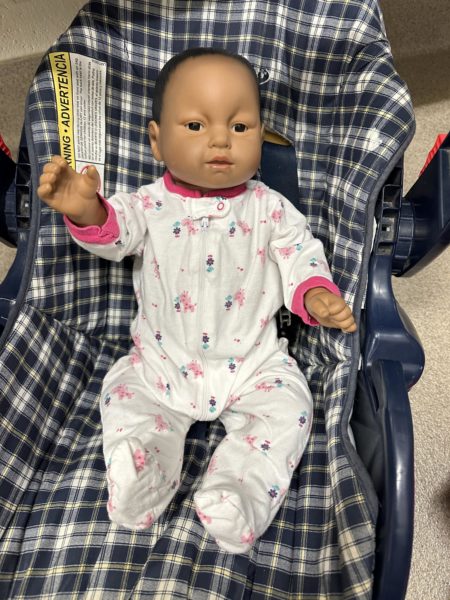 These past couple weeks have been stressful for some students, as they have been assigned to take care of a fake baby. Now this baby is not like a baby doll but acts like a real child. They will cry, want to be fed, burped, and given the same amount of attention that a living baby needs.
Olivia Gonzales, a sophomore here at Rocky, was willing to answer some questions. When asked what tricks she learned to keep her baby from crying, she responded, "Some tricks I discovered to keep it from crying included not touching it when it was silent, keeping track of why it was crying so I could take a best guess the next time it cried or what it needed." She was also asked what type of advice she would give to students who will be doing this next year and answered with "My words of advice for students next year is stay patient and don't stress yourself out. If your scanner doesn't work the first time keep trying and don't be so worried about your grade. If you have a miscarage it won't hurt your grade, so give yourself some grace." Olivia is one of many students who have tested their parenting skills by taking these electronic babies home for the weekend. While taking care of these babies students have learned some valuable lessons, such as being patient and calm.
Students described this experience as "stressful but overall lots of fun." These babies have shown students what it is really like to take care of children, by giving very detailed tantrums at night, wanting all the attention and love that normal babies want, and being cute but lots of work.
While this has been a daunting task for many of these students, they have learned new skills and may be more confident when it comes to taking care of something else that requires attention and patience.
Story continues below advertisement