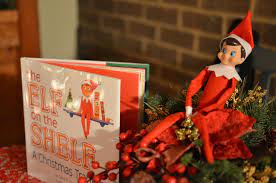 The holiday season hasn't quite arrived, but student's minds are on the horizon of Christmas festivities. Candy canes, Christmas tunes, hot chocolate, and Christmas movies, winter is beginning to take its place.  Another common tradition among all the Christmas activities is having an Elf on the Shelf. Growing up, some people have had Elves on the Shelves, but the real question is: how did it start, and will this fun tradition continue in the future?
It all began with a family tradition that kick-started this global Christmas custom. Tasteofhome.com said, "Elf on the Shelf humbly began as one of Carol Aebersold's childhood traditions with her family's elf, Fisbee. In 2005, Carol and her two daughters decided to share their childhood traditions with the world. Together, they began a worldwide media sensation when they self-published their book and elf kit, Elf on the Shelf: A Christmas Tradition." From a small family activity, Elf on the Shelf grew popular soon after its debut.  Vivienne Decker, a writer about consumer brands, wrote, "There's 13 million scout elves in family's homes globally." That's a lot of elves! However, Tasteofhome.com also said that this tradition became immensely more popular after the media saw a celebrity, Jennifer Garner, with the Elf on the Shelf book. By seeing celebrities in the media with their own Elf on the Shelf book, this helped influence people to start this family-fun tradition of a hide-and-seek elf in the holiday season.
The people that do have Elves on the Shelves can conclude that they're super fun to find in places all around their houses, and that sometimes they even get into mischief.
"One time my elf was hanging from the string that turns on the fan, and there was underwear hanging from the fan." Said Hayley Scherer.
Story continues below advertisement
Even though students and families have fun with their Elves on the Shelves, some families never had one and don't want them, and with fair reasoning. Carolanne Strong, a teacher and parent at Rocky, said, "It's magical and just one extra sprinkling of glitter on your season, and for younger kids it can be something that makes them want to be good because they know the elf is watching, yet it's extra pressure on parents because the elves need to be doing something entertaining at night and if the elf doesn't move the children are worried that they did something wrong." Throughout student's experience with elf on the shelf, they've always thought of it as a fun tradition for young kids, but they never took into account the perspective through their parents.
"I think it's a cute idea, but it requires a lot of effort from parents." Mrs. Strong said.
Especially with the busy holiday season, parents might not have the time to participate in Elf on the Shelf, and some families worldwide have not participated for that very reason, but their Christmas season is still just as jolly.
Obviously, Elves on the Shelves can be a great opportunity for some families to have fun, but some families never had them.  After finding out the history of the Elf on the Shelf and hearing from a student and teacher about their Elf on the Shelf experience, the world can't help but wonder:  will this worldwide holiday tradition continue as generations progress?