Renowned Teacher: Mrs. Osterhout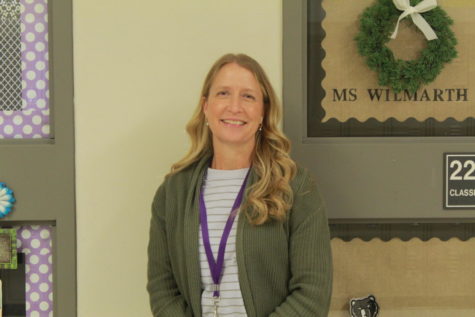 There are over 80 teachers here at Rocky Mountain High School, but students rarely even know half of them. One of those many teachers is Mrs. Osterhout, a speech and introduction to news teacher here at Rocky. Today, you will get to learn more about Mrs. Osterhout and her life outside of teaching.
Osterhout began teaching here at Rocky in 2012, so after this school year, she will have been teaching her for a decade! That's some serious dedication. Currently, she teaches Speech, College Speech and Intro to News. In the past, she has taught Speech and Debate and Newspaper. Speech was not her first choice however, her bachelor's degree was under communications so when she went back to college to become a teacher, she used that degree and got her teaching certificate under communications and physical education. When she moved here and had her first interview, it was for speech. Fast forward ten years and she could not imagine herself teaching a different subject. Currently, she is that only speech teacher here at Rocky, a huge step down from four speech teachers last year.
Now, you may be wondering why she became a teacher, and the answer is not as obvious as you might think. Osterhout became a teacher so she could coach basketball, this choice resulted in the job she loves today and her involvement with the girls' basketball community. Speaking of things that she loves, Osterhout loves her 3-year-old Cockapoo, Dexter.  Now for some fun facts about Osterhout, her favorite animal is a pig, she was born and raised in Utah and she played college basketball at Southern Utah University. Speaking of basketball, that is one of Osterhout's biggest hobbies. She has coached basketball 23 years on all levels, even collegiate. She is even the co-owner of Boise Slam, which is a girls basketball club here in the Treasure Valley. Osterhout's family consists of her, her husband and their four kids. Osterhout also has a grandson. Osterhout has many favorite memories, many made at home with her family or her students here at Rocky, and it is hard for her to choose just one of them. She said, "My favorite memory is hard because I have so many… Any time I spend with my family would be a favorite memory." Speaking of the word "favorite," she has many different favorite things, and these are just a few. Osterhout likes the Ninja Chocolate Milk at Dutch Bros, any Mexican restaurant, her favorite colors are baby blue and navy blue, her favorite candies are either Score Bars or Snickers, her favorite season is Fall and it does not take a rocket scientist to figure out what her favorite sport is, basketball! Closing out with her favorite things about Rocky, she loves the atmosphere at the school, she loves the teachers that she works with and the "GREAT students" that attend. You can always find Mrs. Osterhout in room #226 with a smile on her face.