Rocky Mountain Track and Field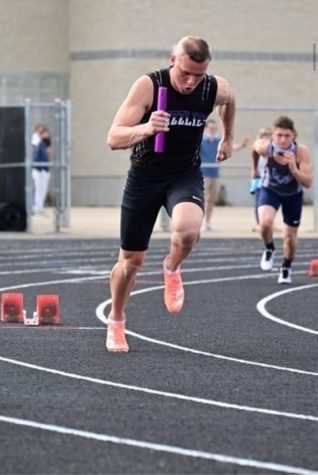 Track and field is one of the oldest sports, being created in 776 B.C. It was often held in religious festivals, but it most known for being an Olympic sport. Starting with mostly males the sport has evolved to include a plethora of women's events. The most anticipated event every 4 years is the 100-meter dash. At Rocky Mountain High School Track and Field is the best sport in terms of winning the track team winning multiple state championships over the course of their 14-year existence.
The track and field team is led by Head Track and Field Coach, Brad Abbott, the Honors Earth Science and Practical Entomology teacher. He has built a powerhouse for the track and field team and that is thanks to the preparation he does before the season. Three months before the season he schedules lifts to get make sure that the team is in shape and physically prepared for the gruesome track season. This is the reason why Rocky Mountain High School has the best track team in the whole state. Being this consistent is not easy, but having a coach who pushes his athletes to be better every time they step on the track helps.
Many of Rocky's athletes have expressed how much they love by apart of a winning culture. Parker Simmonsen, sophomore at Rocky Mountain High School and track athlete, shared that the most important thing to get ready for the track season is to be "mentally prepared."
Simmonsen stated that, "You need to make sure your mentally prepared because the only person you are battling on the track is yourself. The only thing on my mind is beating my own personal record every time I step on the track."
This mindset allows him to stay calm during the meets and breeze by the competition. Another Rocky Mountain student, senior Kade Thompson, placed first in the state for the 4×100 as a sophomore.
Thompson said that, "My goal is to do as much as I can for my team to win state this year." He focused on bettering himself and his teammates as well.
More recently a senior at Rocky Mountain High School, Glory Kabongo, placed first at the first track meet this season for shotput; he credits his success to "having a support system around [him] who puts [him] on the right path."