As the sun begins to rise, casting a warm glow over the horizon, the best class yet, the class of 2024 gathered in anticipation of a special event that marks the culmination of years of hard work and dedication. Senior Sunrise, a tradition celebrated at Rocky Mountain, holds a significant place in the hearts of graduating seniors. This cherished event symbolizes both reflection on the past and hopeful anticipation for the future. Let us dive deeper into the essence of Senior Sunrise and its significance for those about to embark on a new chapter in their lives.
Some asked the question is it worth getting up at 6:15? We asked one of our seniors who attended if it was. One senior, Brianna Murray answered this question, "Yes I believe it was worth it because it only happens once on our high school journey". As the first rays of sunlight broke through the darkness, Seniors gathered on the turf to witness the beauty of the sun rising together. This event represents the unity and camaraderie among the graduating class, as they embark on their final year of high school. We wanted to know the best part about the experience, senior Chelsea Sterling gave us an answer. "Senior sunrise was a great way to start the year. Everyone got to see their friends and reconnect before the school year started!" The event is not merely a picturesque gathering; it serves as a time for seniors to reflect upon their experiences, friendships, and personal growth throughout their academic journey. These memories will be cherished, senior Carli Messmer shares why, "Yes, I will cherish the moments since I got to wake up with my friends and get Starbucks. Also play spike ball with the people I grew up with". Whether it be reminiscing about cherished memories or acknowledging the challenges overcome, Senior Sunrise allows individuals to appreciate how far they have come and the lessons they have learned along the way.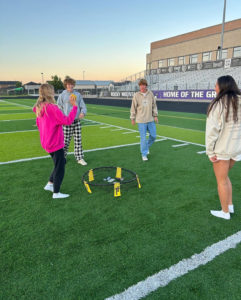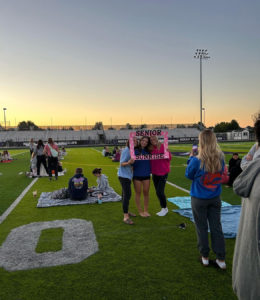 While Senior Sunrise may be a nostalgic moment, it also represents the excitement and anticipation for what lies ahead. As the sun rises, so does the enthusiasm for new beginnings, opportunities, and adventures.  The event acts as a reminder to seize the day, embrace challenges, and make the most of the upcoming year. Many seniors captured the beauty of the sunrise through photographs and videos, ensuring that the moment is forever etched in their hearts. These images serve as a visual reminder of the emotions felt during this significant milestone, allowing individuals to revisit and cherish these memories in the years to come. It is a time to reflect, unite, and embrace the dawn of a new chapter, ready to face the challenges and triumphs that lie ahead. Go Rocky!
Story continues below advertisement