The Adventures of Kosovo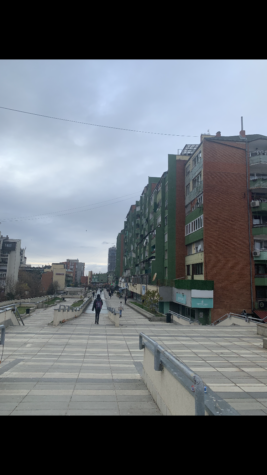 Culture is a very big thing that effects the world tremendously. It is everchanging and is rich in history. The past two weeks I have traveled to the country of Kosovo where I am originally from. Its culture includes interesting attitudes towards life, food, and fashion.
First, we must talk about the attitudes for life. Kosovo has recently emerged from a brutal war and are still rebuilding the country. Their attitude for life is different because they have seen horrible things during the war and appreciate life a lot. Riza Gashi (my grandpa) stated, "A lot of people take life for granted, its important to appreciate the little things." He has experienced the war first hand by seeing many of my family die and feel the struggle of war. What this means is that it important to cherish your family and friends throughout your lifetime.
The next thing to talk about is the food. Kosovo features a very interesting selection of foods. These foods can range from Mediterranean to Italian food. It is a unique combination of many different types of foods put into one. Meriton Iseni stated, "My favorite food is pite with beef because it is rich in protein." Pite is a dish that has a dough wrap with different things inside of it including cheese, spinach, beef, and even pumpkin!
The last thing to talk about is the fashion in Kosovo. It is very unique. It takes pieces from places like Paris, Italy, England and combines them to make its own unique blend. It includes many Nike tracksuits, big puffer coats, and graphic tees. Harris Rustemi stated, "My favorite shoe is Jordan because they are so hyped up over here." Shoes are also a very big thing in Kosovo and you can see teenagers all over the country wearing things such as Jordan, Puma, Nike, and Adidas.
Overall, the culture is very rich in Kosovo. It is something that I believe is ever growing and will continue to get more and more interesting. Whether it's the attitude, the food, or the fashion, it all takes effect into forming this beautiful country!