Rocky Mountain Canned Food Drive
Rocky Mountain: Canned Food Drive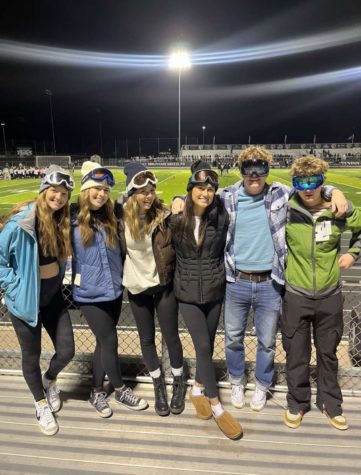 Rocky Mountain High School is a school that gives back to the community. Specifically, the Schools Student Council. Student Council is a program that makes Rocky Mountain what it is. They plan all the events [not including sports] that Rocky Mountain holds. Such as the Canned Food Drive and the Wishmas event which will be held this December. The Canned Food Drive happened this November and students were tasked to bring non-perishable food to their classrooms to give it out to people who need it. The catch is that classroom who brought the most cans win a prize, which was a donut party. There are many members of the Student Council and put in a lot of work to make the school look so special. Such as the posters, Tiktok, and just the whole vibe of the school. They also did a lot of promotion on the Bearcast and over the school intercom.
Cienna Legaspi [Cece], a junior at Rocky Mountain and the junior student body president, was the first person that came to mind when thinking about student council.
"I ran for student council because it is fun to involved with the school, meet people, and it can do no harm when applying for college.", Legaspi said.
She also added on some more details about why she joined in a later question saying, "Who wouldn't want to have fun with friends and be a part of extracurricular activities outside of school." To Cece it's all about having fun with her friends and doing stuff with them outside of school, this makes student council more enjoyable since a lot of work goes into it.
When asked why she thinks people would want to donate to this is this is what she said.
"I think that people donated to the food drive because it is easy to find one or two cans that your family won't use but might be useful for another."
Lucy Dittman, a junior at Rocky Mountain and member of the student council. She wasn't apart of the people running the Canned Food Drive but she did have some things that she said that Cece didn't discuss.
"We had enough food to make a little over 30 meals for people to eat.", said Dittman. Rocky has had better years in the past but as long as people are doing something to help their community then that's all that matters. She also talked about why she joined student          council, "I joined stu-co[Student Council] because all my friends did it but over the years I have just liked student council more because I feel like I am doing something to help the school." They run almost all the events at Rocky or at least plan/participate in them in some type of way.
All in all, the Canned Food Drive was a success and made over 30 meals for people who are in need of it. People at rocky should be more appreciative of Student Council because they do so much for the school and make the school look live and make it more pleasing to look at. They have hard jobs to complete in one period every other day yet they still get it done.