Rocky's 18-21 Program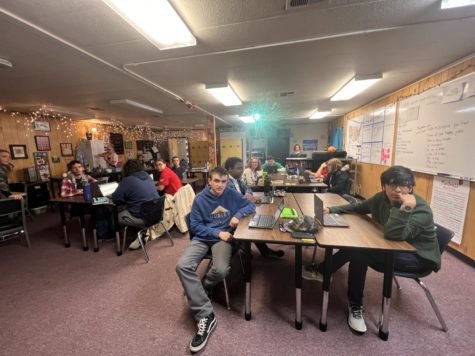 18-21 Program for Special Ed Students Is Preparing Students for Work Force Once Graduating.
The 18-21 program is a program for Special Education Students at Rocky Mountain High School. This program helps students that have graduated from Rocky ages 18-21 find jobs in the work force and helps them prepare for the jobs they are interested in. This program is very helpful for these students, so that they can get opportunities in the work force that they will enjoy.
On Monday, Nov. 14 the 18-21 program had a zoom meeting with Boise State University about their PEERS (Providing Exceptional Education and Raising Standards) program. Boise State University highlighted the PEERS program and explained,
"Students in PEERS take Boise State classes for credit and are supported by university faculty, program staff and student allies. The two-year program uses a person-centered planning approach to help students achieve their goals and contribute to their community as citizens and in the workplace." (Boise State University). This explains more about the program and what this program does for the special education students.
Angelina Hickman, the head teacher of the 18-21 program at Rocky, explained to me what this program is. Angelina said with "The West Ada transition Academy at Rocky Mountain is a community-based program offered to students 18-21 years of age with disabilities. Students receive a variety of on-the-job training working toward increases responsibility and independence….as a part of academy, students will also work on their postsecondary goals for life after high school. Students in this program have completed four years of high school and are preparing for the transition to "real life" (Hickman). This is Angelina's fifth year teaching this program. Angelina explained to me that she felt it is important to her to help these students so that they can learn adult life and vocational skills such as budgeting, banking, shopping using price comparison, bill paying, writing resumes, and skills to help them keep that job.
Angelina also answered the question of how do you prepare these students for the workforce? Angelina answered with, "Students practice interview skills, create resumes, and learn vocational skills.  In the three years students are with us, they are provided with 6 different vocational opportunities, many of which are in the community. We pre-teach many job skills and soft skill with classroom full participation, role modeling, practice scenarios, and videos. We have many vocational training sites established such as Albertson's, Sierra Trading Post, Garbanzo's Pizza, Plato's Closet, daycares, assisted living centers, etc. Many of our past students have part- or full-time jobs at Albertson's, Idaho Pizza, TJ Maxx, Lithia Ford, Plato's Closet, JoAnn's Fabric, Scentsy, Big Al's Craft Warehouse, Claires, Fred Myers and many more." (Hickman). Students get to enter the workforce after they complete the program (when they turn 21), they can get hired while volunteering if the manager wants to hire them. When the students turn 21 if they don't have a job then Vocational Rehabilitation helps the students get into a full-time paying job. She says, "Our goal is to have each student as job ready as possible if not placed in a paid position" (Hickman). Angelina says she enjoys seeing the growth the students make and she loves to watch them develop self-worth and self-confidence. The students in this program get to learn hands on experiences to help them with adult living. The students also will gain real world experiences.
The last question Angelina answered was what are some of the work forces you are preparing these students for? She said, "We certainly try to prepare the students for their job of choice or "Dream Job."
We investigate many different vocational opportunities, researching what tools, skills and training are required. We also visit CWI Certificated programs, BSU, and have many vocational tours to show students truly what careers are available to them and what training and education is available to get and maintain those jobs. We have students in positions in food prep, custodial, technology, landscaping, retail, childcare, massage therapy, pet grooming and pet care, construction, selling car parts, self-entrepreneurship and many more." (Hickman).
In conclusion, the 18-21 program at Rocky is very beneficial for the students with disabilities at Rocky.