Holiday Foods
Thanksgiving just ended and that means the winter holidays are coming up. That means FOOD! Many different cultures eat different foods through this holiday season and during thanksgiving. Of course, not everyone eats the same foods, but there are some special recipes that people eat around this time of year. Certain dishes have special recipes and are important to many different people.
Natalie Nichenko explains that for thanksgiving "She helps make stuffing and mashed potatoes with her grandma. She also eats rolls, turkey, and pie. Her and her family have like three different types of pie for variety. Those include pumpkin, some type of berry, and then key lime or lemon meringue."
A lot of other families also eat turkey, mashed potatoes, stuffing, pie, rolls and some even eat green bean casserole, and mac and cheese. Which are pretty normal for a lot of families in America, because those are the main foods people eat on Thanksgiving.
The reason people tend to eat that on Thanksgiving is because the pilgrims traveled from England to the Netherlands and then to New England in the 17th century. The first meal they had in New England were the traditional turkey and cranberry sauce, mashed potatoes, stuffing, ect.
Next up is Christmas. Nichenko says that on Christmas "she normally eats something fancy like steak or her dad makes lamb. Her and her grandma also bake Christmas cookies for Santa Clause."
Chris Bonocore a cooking teacher here at Rocky also describes a desert she eats on Christmas and how it became. "One thing that I eat is an English classic which is Bread pudding. I made my own special version because one day while I working in a restaurant, I was making bread pudding when I realized we were out of vanilla and rum which are a necessity in the recipe. I looked and found Irish Cream. In that moment I knew I had stumbled upon an amazing discovery." She also gave us the recipe that's down below: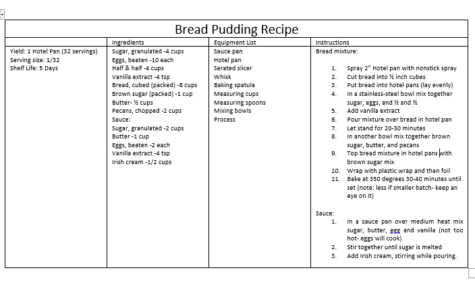 If you're not sure how the pudding became Bonocore also describes some of the history. "There are many different names to the bread pudding like figgy pudding but it's the main dessert for a traditional English Christmas dinner in Great Britain and other Commonwealth countries. Despite the name, it is not made of plums (or figs). In the Middle Ages, people referred to raisins as "plums." The original concept for the dessert evolved out of necessity as a way to prevent food waste.  Rather than throwing out stale bread that was hard to chew, cooks soaked the bread in a sweet liquid, baked the dish in the oven until it was golden, and then served it warm. Today, the pudding generally consists of raisins, breadcrumbs, sugar, butter, and spices (cloves, cinnamon, nutmeg). However, there are thousands of variations. Before serving the dessert in the UK, they pour brandy, rum, or other strong alcoholic beverages on it and set it on fire."
Paola Maurer a Spanish teacher at Rocky, also describes what a typical Christmas meal in Chile looks like sense she lived there for a little while. "There is usually a large dinner is served in the late evening. This consists of typical Chilean foods, oven roasted chicken, turkey, or other special meal. Pan de Pascua, a sweet fruit cake dessert, is always a staple for this holiday."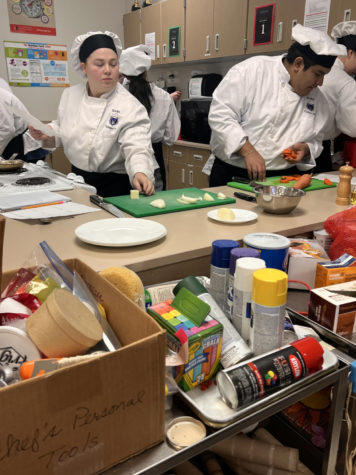 Some typical Chilean foods consists of Empanadas de Pino which is a turnover stuffed with diced beef, onions, raisins, olive, and hardboiled egg. Baked in an oven, Empanadas de Queso which is a turnover filled with cheese and usually fried, and Bistec a lo Pobre, which is steak topped with french fries and/or fried onions and fried eggs.
Kelly ReedHeuer another Spanish teacher described what a holiday meal in the Dominican Republic looks like as well. "In the Dominican Republic, the big celebration is Christmas Eve. The family gathers, much like we do for Thanksgiving, and enjoys a huge meal. The staples of it are fire roasted pork (think spitted like Hawaii) and pasteles en hoja. There are also many other food and beverage traditions."
Overall, many different countries celebrate the holidays very differently. The Dominican Republic, and Chile for example celebrate it very differently than most people do here in the United States. Hopefully now you know some different ways different cultures celebrate the holidays and you never know, you might want to try one of them!