Rocky Mountain's Fall Senior Nights
Rocky has had a lot of Senior nights throughout the past few weeks. Senior night is when we get to celebrate the seniors on sport teams. Each sport had a different senior night, and on that night they call all the seniors out on to the field, turf, or floor and talk about them. Girls' soccer, Football, Boys soccer, and Volleyball had their senior nights at Rocky Mountain High School.  
Girls' soccer had their last home game on October third, the girls' soccer team had their senior night. It was a very emotional game. Kaitlyn Slocum said, "I'm going to miss Rocky when I leave". This night was the last home game played on the Rocky turf for Kai Deguzman, Mckenna Doremus, Reagan Fratusco, Molly Harrison, Emily Polson, Allie Brown, and Kaitlyn Slocum. The seniors will be missed a lot as they move onto the next chapter in their lives. After the senior night game, Allie Brown said "The game was rough at the beginning, but by the end we all came together as a team and got the win". This whole season couldn't prepare for the seniors to go, but Rocky knows they will make a great start to their new future ahead of them.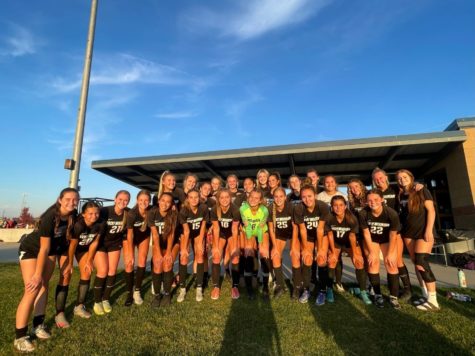 Rocky Mountain's varsity football team had their senior night October 14. The seniors played their last game of the season on the Rocky Mountain Varsity football team. Rocky played against Timberline High School. The football team has had a very strong year so far. Rocky has won against Middleton, Coeur d Alene, Mountain View, Eagle, Centennial, and Capitol High School. Then unfortunately on October 7 Rocky lost against Meridian. The Grizzlies won against Timberline High School. The score was 0-49. 
The following players: Brekon Albert, Isaac Allen, Dawson Anderson, Trevor Beck, Alex Bjekic, Justin Bunt, Micah Clyde, James Crager, Preston Craig, Andrew Crosby, Noa Davenport, Vaughn Davisson, Tyler Durbin, Austin Ellis, Jackson Fullmer, Curtis Hall, Luke Hanchett, Tayson Hanson, CJ Jacobson, Luke Luchini, Britton Mcclure, Ty Page, Zachery Penner, Treyton Sharp, Tegan Sweaney, Tyler Shearing, Preston Slack, Caleb Stabb, Cade Steadman, Nicholas Sosa, Gage Tanner, Parker Weatherly, Troy Wilkey, and Arthur Williams are seniors at Rocky Mountain High School. These players played their last football game. All these senior players will be missed.  
Both senior football players have been on the Varsity football team for 3 years and they both said Mountain View was their favorite game to play this season. I asked Gage Tanner, how he felt about playing his senior football game, and he responded with "It was super cool, and it made me realize how fast time goes." I also asked their favorite moment on the football team, Sweaney said, "Winning state in 2020" and Tanner also said, "Winning state my sophomore year with my older brother." Both seniors don't have specific college plans but are planning on playing football in college.  Sweaney told me that the best piece of advice they have received was "Don't think just do or stay true to yourself." Tanner said that the best advice he has received was "Treat every day like it's your last." The last question I asked  Sweaney and  Tanner was what are they going to miss the most? Tanner responded with "The friendships I have created and being with my friends every day." Sweaney responded with "Family and the long ride." Below are all the senior players on Rocky Mountains Varsity football team this year.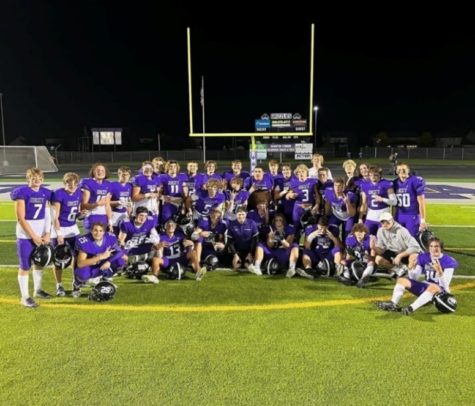 Volleyball had their senior night October 13. Senior Hadley Bodell said "Rocky Volleyball's senior night was so much fun; we had an absolute blast and to top it off we beat Capital in 3 straight sets! I know every senior athlete who has played their last match in a Rocky uniform can relate when I say that it's very emotional knowing that game is the last time, you'll experience a student section rooting for you, your teammates supporting you and your coaches helping you on the Rocky home court. There's something electric and amazing about playing for your school on your home court, and it's a feeling I know I won't find anywhere else". Bodell also said "I'm so proud of the legacy that Emma, Aubrie and I are leaving behind in the Rocky Volleyball Program, and I'm so grateful I've had the opportunity to play for my school the last 4 years".  
The Soccer boys' senior night was on September 27. It was the last game played on the Rocky turf for, Rezon G, Sammy H, Desean James, Lieven I, Austin S, Dawson A, and Krew P.  On senior night the boys got a chance to share what they are hoping to do after they graduate, some wanted to start their own businesses, some wanted to go into being a fireman, some even wanted to travel across the world. These seniors will be very missed to leave Rocky, but we know they will follow their dreams and make them happen. I asked a few of the seniors how the game went, Rezon Gashi said "We won the game, it was good, the score was 3-2". I asked Gashi how he felt during the beginning, and he said "Good, it was a mixture of sadness and happiness cus the season is over, but I'm ready for college".