Top Netflix Picks and Flicks
May 1, 2023
Netflix has been out since August of 1997, consisting of many different tv shows and movies. To find out the most recent top movies and tv shows, students from every grade level here at Rocky will be discussing if they agree with the top picks, and if they would recommend them or not.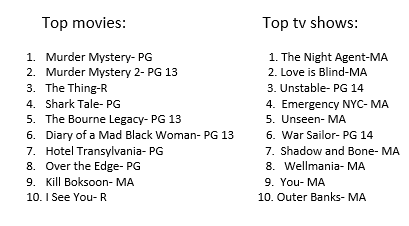 Ethan White-an 11th grader explains his opinion, "I have seen two Jason Bourne movies, but not the whole legacy. I have heard it is good though. Then for Shark Tale, I do not know if I would recommend it to someone else, but I remember it being decent. I would say it is a solid 6/10.  For tv shows, I have seen one episode of Emergency NYC, and I remember it being pretty good from what I've seen. I might recommend it. Solid 8/10." Overall, Ethan has seen a few of the movies and tv shows from the list and recommends some of them.
Taiyana Mwanga- a 12th grader states her opinion as well, "I would recommend I see you, You, Outer Banks, and Murder Mystery. I want to watch Murder Mystery 2 because I have heard it is good, and I liked the first one. Then for Outer Banks I would like to finish it but there are a lot of boring parts in it, so I have not exactly caught up with it yet. I would still really recommend it though!" Overall, Taiyana recommends quite a few movies and tv shows- specifically the Murder Mystery movies and Outer Banks. Maybe one will be of interest.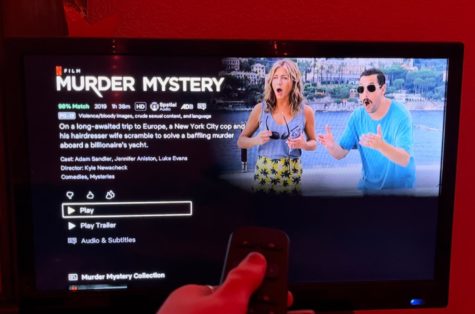 Does Emily Wendt- a ninth grader- think the same way as her fellow classmates? "I have seen Outer Banks and I would recommend it because it has a good plot and a good show for teens. For Hotel Transylvania I remember liking it when I was a kid, so I would recommend it to kids like younger siblings." To sum up, Outer Banks seems to be popular since it has been mentioned twice now and would be a fantastic addition to a tv show list since multiple other sources recommended it as well.
And lastly, Savannah Fisher- a tenth grader stated, "I have watched Shadow and Bone, and have also read the book but the show kind of took a turn, and I was a little lost, but I would still recommend the show, but the book is better." Furthermore, Savannah explains that sometimes books are better than movies, but is still recommended.
Overall, these are the current top picks currently from Netflix. Maybe one of them seemed interesting? Maybe one stood out? But overall, these are what students at Rocky think about the top picks. So maybe check them out sometime!