Spring Sports Starting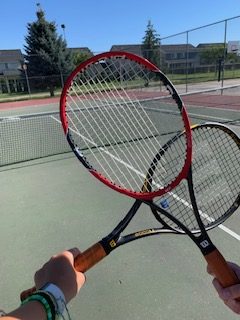 With February ending, spring is coming up so quickly. Spring is nearly in the air and along with that comes sports. Some popular spring sports are tennis, track, rugby, Lacrosse, golf, baseball, and wrestling. Many of these sports are very well liked among the students at Rocky Mountain High School.
Tennis (a game in where two to four players hit a ball with rackets over a net stretched across a court.) Rocky tennis has a Varsity and a JV (Junior varsity) team. Tennis practices for JV is from 3:15 – 4:30, and Varsity practice is from 4:30 – 6:30. When asked 'what's your favorite part of playing tennis?' Mackenzie Wright (a junior at Rocky) states, "My favorite part is that you can play by yourself if you want while still being on a team. I usually prefer solo sports and tennis allows me to do that while also being able to be part of a team." When asked what the hardest part of tennis was, Mackenzie said, "The hardest part of tennis is serving. It's such a complex thing that takes a lot of time to understand and build muscle memory. It's also one of the most important hits in tennis."
Track (An event where runners compete in running, jumping, and throwing.) Track practices are every weekday from 3-5:15, except people who run distance have to go to camel's back park in Boise on Saturdays at 9 am. When asked what your favorite part of track is, Cody Lucas (a sophomore) says, "My favorite part of track is getting to scream for my teammates in every lap of the 3200." When asked what his least favorite part of track was, Cody said, "We do some pretty tough workouts that make my legs feel like jello."
Rugby (A team game where you pass or kick an oval shaped ball and score points by grounding the ball behind the opponents' goal line, or over the crossbar of the opponents' goal.) Practices for rugby are at Heritage Middle School from 4-6. Carter Richardson a Sophomore at Rocky said that his favorite part of the sport is, "My favorite part of rugby would have to be the teamwork aspect, it takes everyone to be doing their job as a group to get the win at the end of the day." This is a very valid reason to love a sport because it shows teamwork. Carter states the hardest part of rugby is, "The hardest part of rugby is definitely the physical aspect. You're constantly giving it your all when it's getting back to your spot or even getting the big hit."
Lacrosse (LAX) (a team game, with 9 players (including a goalie) on the field where a rubber ball is thrown, caught, and carried with stick having a basket like head at one end with a piece of shallow netting in the angle.) LAX practice is usually from 4-6 at Heritage Middle School. Cameron Bush, (a junior) stated his favorite part of lacrosse is "How fast paced the game is." Cameron stated his least favorite part is, "Learning the stick skills like passing, catching, shooting, and picking up the ball is the hardest part."
Baseball (a ball game played between two teams of nine on a field with a diamond-shaped circuit of four bases.) Baseball practices are after school from 3:10-4:30 for junior varsity and 4:30-6:30 for Varsity.